By Sonya Worthy Okolo, PT
It was March 2020 and COVID shut the world down. Skeptical, I, along with my fellow healthcare providers, quickly pivoted to provide online care. Pulling upon years of clinical experience and keen observation skills, I became a reluctant believer in the effectiveness of telehealth. To my surprise, many patients got better and accomplished goals without my hands!
So, you may be wondering…why would I ever consider Virtual PT, also called telehealth, now that offices are open for in-person care? Consider these many benefits to online treatment:
SAFETY – Virtual PT allows you to receive care in the safety and comfort of your own home. If there are concerns of sickness, online services prevent risk of infection and interruption in your plan of care. Inclement weather is no longer an issue!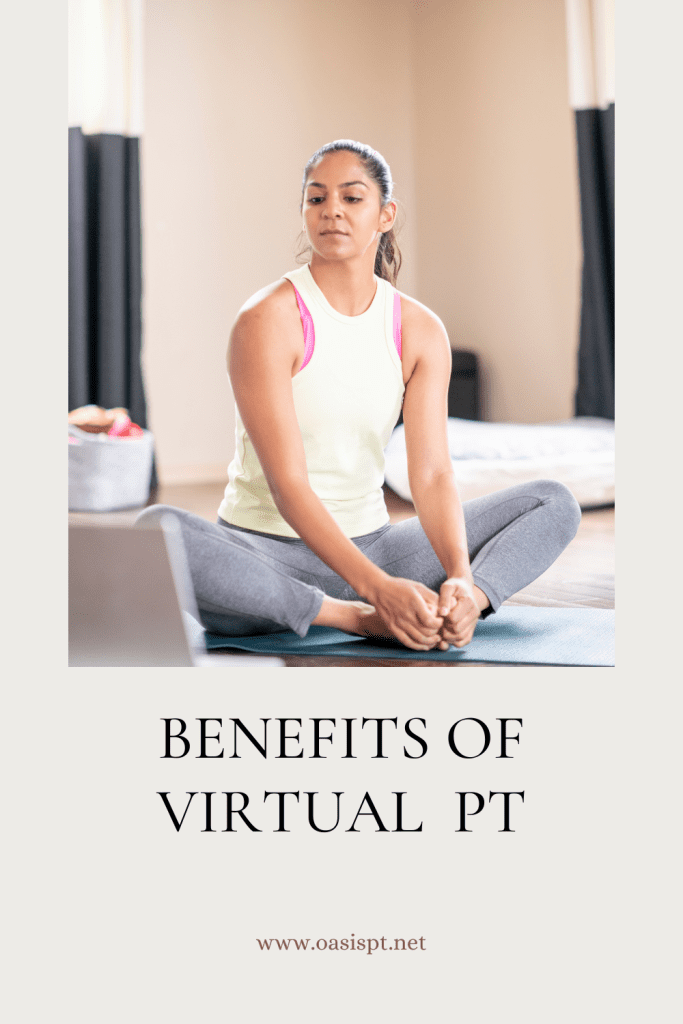 CONVENIENT – All you need is a secure internet connection, electronic device with a camera and microphone, comfortable clothing, good lighting, and a quiet, open space. Virtual PT is covered by most major insurance companies, similar to in-clinic sessions. And, no more TRAVEL time for busy lives!
PERSONALIZED – Telehealth allows truly personalized care. Patients have come to appreciate individual, true-life assessment of day-to-day tasks, for example, office ergonomic set up, home safety, toilet posture, bed mobility, and lifting from baby crib. Movement screens in real-time allow for instant strategy and therapeutic interventions.
INDEPENDENCE – Working in your own home via Virtual PT allows for self care and greater independence. Therapists can provide instruction in self massage techniques and exercises using tools in your own home.
Still not convinced…check out this research article. The Musculoskeletal Journal of Hospital for Special Surgery discovered that, during COVID-19, patient satisfaction with virtual physical therapy was comparable to patient satisfaction with in-person services. ((Erica Fritz Eannucci et al., "Patient Satisfaction for Telehealth Physical Therapy Services Was Comparable to That of In-Person Services During the COVID-19 Pandemic," HSS Journal, Oct. 2020: https://www.ncbi.nlm.nih.gov/pmc/articles/PMC7571303/))
Next time you have a sick child, late work meeting, or simply want to invite your Therapist to assess your movement screen in real time, ask for a VIRTUAL PT appointment. Questions or comments, then please contact us below: